Details
New technologies are rapidly changing the transport and logistics landscape, hence requesting all transport, logistics and supply chains actors, including inland and sea ports, to be more innovative and agile. Danube ports cannot ignore the rising tide of global digitalisation and port authorities need to prepare for and invest now in their digital future. However, it is often unclear what "digital" means for a port organisation, its core business and the port community at large. Port digitalization it is in fact a long term process which requires port organisations and port stakeholders alike to undergo continuous structural, functional and strategic transformations.
Are ports in the Danube Region prepared for such a transformational journey? What are the pre-requisites and the capabilities needed to enable such a process? What is the role of a port authority to leading such a process and foster a digital culture in its own organisation and at port community level?
To answer these questions and kick-start a more structured debate on port digitalisation, relevant digital trends & technologies in the port domain, the Danube Ports Network has organised within the context of the DAPhNE Project its first thematic conference dedicated to port digitalisation.
Under the title "Danube Ports in the digital age: challenges & opportunities", the event featured 14 speakers that ranged from leading experts in ICT, digital transformation and innovation in maritime and inland ports and navigation, to transport, logistics, supply chain and automation experts, to EU transport policy and funding experts.
The conference highlighted current EU policies and legislative initiatives to support sea & inland ports digitalisation, showcased how first-movers have responded to the digital challenge and driven the needed change at port organisation and port community level. Digital pioneering European sea and river ports which have played a leading role with respect to port digitalisation, connectivity and smart corridor integration have presented their visions, strategies and business models namely the Port of Barcelona, the Port of Rotterdam, the HAROPA (Le Havre – Rouen - Paris) and the Upper Rhine ports. Furthermore, the conference gave insight into ongoing port digitalisation projects and initiatives -- illustrating how modern communication technologies can help to sustainably optimise the processes and operations of river and sea ports. Last but not least, participants got to experience cutting-edge technologies and innovative digital solutions for integrated port traffic management, Port Community System and Supply Chain Route Planning during an interactive online workshop run by the Port of Rotterdam.
Presentations
Introductory remarks by Dr. Michael PROHASKA, CEO the tean GmbH & Co KG
Introductory remarks by Mr. Nik DELMEIRE, Coordinator European Inland Waterway Transport (IWT) Platform
Session 1: EU policies & legal frameworks enabling digital transformations in the waterborne (river & maritime) transport sector
Item 1. EU frameworks enabling digital transformations in inland & maritime transport sectors benefiting Danube Region's port
Item 2. Corridor RIS implementation: opportunities for Danube region's ports and terminals
Item 3. Improving administrative procedures and processes for IWT on the Danube through digital solutions
Session 2: Enabling digital solutions for ports: EU funding schemes & non-legislative tools
Item 4. EU Funding schemes enabling the development and implementation of digital infrastructure & solutions benefiting ports
Item 5. EU digital tools enabling digital port developments
The Connecting Europe Facility (CEF) Building Blocks
e-IMPACT| e-Freight Implementation Action
Session 3: Digitalisation at work: pilot projects and best practice examples for Danube Region's ports
Item 6. Upper Rhine traffic management platform: presentation and live demo
Item 7. Smart services for inland ports and IWT – 2 case studies from the projects "SELIS" and "Binntelligent"
Item 8. The "Smart Corridor" approach of HAROPA (Le Havre – Rouen - Paris) Ports
Session 4: From digital to smart: port digitalisation trends & models
Item 9. The Smart port model - the port of Barcelona's perspective
Item 10. Levels of digital maturity of ports, by Port of Rotterdam.
Details
10 April 2019
Vienna, Austria
The official launch of Danube Ports Network (DPN) on the 10 April 2019 in Vienna is another key milestone in the DPN's life. With this event, we knowledged the successful work carried out within the framework of the DAPhNE - Danube Ports Network Project (Jan.2017-June 2019) and introduced to a larger audience one of its successful outputs, namely the Danube Ports Network (DPN).
Launched in June 2018, the DPN acts as a regional coordination and collaboration platform involving public and private Danube port and terminal organisations in the Danube Region. At this stage, the Network brings together public & private Danube port organisations, currently involved in the DAPhNE Project. However, with the support and collective effort of 8 strategic partners, the Network shall continue functioning as a coordination and cooperation platform after the end of the project (June 2019). In this context, in his opening intervention, Mr. Manfred Seitz, General Secretary Pro Danube International (PDI) -- the host organisation of the DPN Technical Secretariat -- had presented the DPN vision, mission and objectives, underlinging the importance of a well - cordinated platform for coherent transnational cooperation of the Danube Region ports.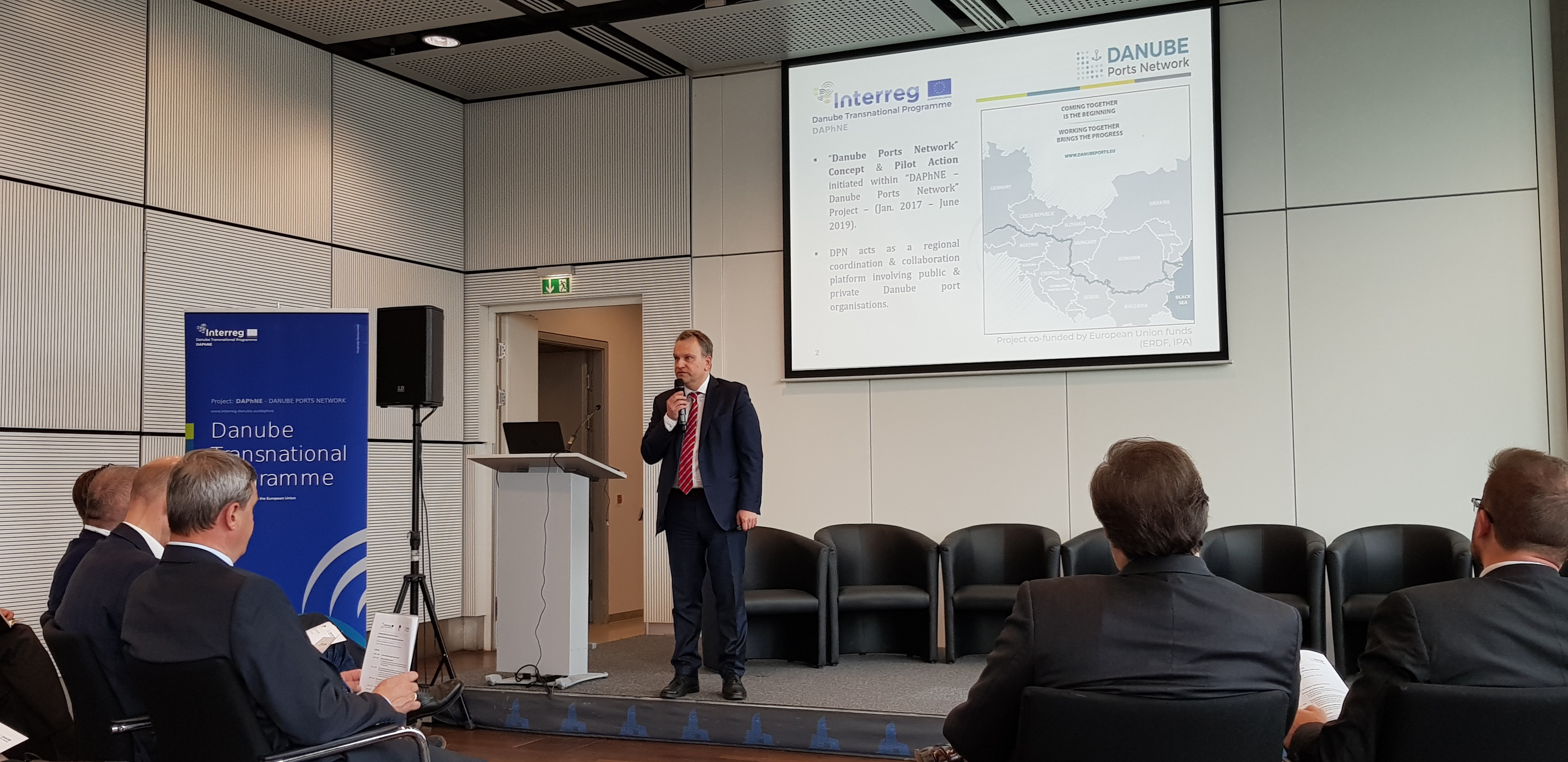 Keynote speeches were delivered by strategic partners of the DPN, namely Mr. Turi Fiorito, Director European Federation of Inland Ports (EFIP) and by Dr. M. Fazekas, Executive Chairman Southeast European Cooperative Initiative (SECI). As the representative of the EFIP's Secretariat – one of the most relevant DPN's strategic partners in promoting Danube ports' interests at EU level, Mr Firorito shared with the DPN community his views on the role of Danube ports in the overall EU inland ports sector, the challenges and opportunities confronting the sector, EFIP's key priorities, as well as areas of possible cooperation with the DPN. On the other hand, Dr. Fazekas highlighted the activities of SECI to promote economic and social development in the South East Europe benefiting the Danube Region, and in this context highlighted the potential role of Danube ports as centres for economic and industrial growth.
Equaly important, Capt Bela Szalma - the Chairman of the DPN Advisory Group had provided a Testimonial -- his personal endorsement of the DPN, outlining his views on the need for a platform for better cooperation of the Danube river and sea ports, the rationale for setting the DPN, as well as the benefits of joining the DPN. In her interevention Ms. Janeta Toma, of PDI - DPN Technical Secretariat, had outlined key initiatives and activities carried out by the Technical Secretariat during the pilot action phase of the DPN.
Last but not least, the participants benefited from an interactive panel discussion which debated perspectives about Danube Region ports' strategic priorities, challenges and ways forward, as well as benefits of regional port cooperation. Specifically, the debate was geared into issues falling under the key thematic areas of the DPN's work: sustainable port development & operations, port connectivity – hinterland connections (multi-modal/intermodal), climate & energy, port digitalisation, RTD & Innovation, skilled port labour – education & training, funding and financing.
The discussion was moderated by Manfred Seitz and contributed by Messrs. Béla SZALMA - Hungarian Federation of the Danube Ports, Werner AUER - Ennshafen, Gerhard GUSSMAGG - Rhenus Donauhafen Krems, Anguel ZABOURTOV - Bulgarian Ports Infrastructure Company , Thomas MOSER - Danube Logistics SRL/Giurgiulesti International Free Port, Alen Jakumetović - Port of Vukovar Authority, and Srđa Lješević - Port Governance Agency.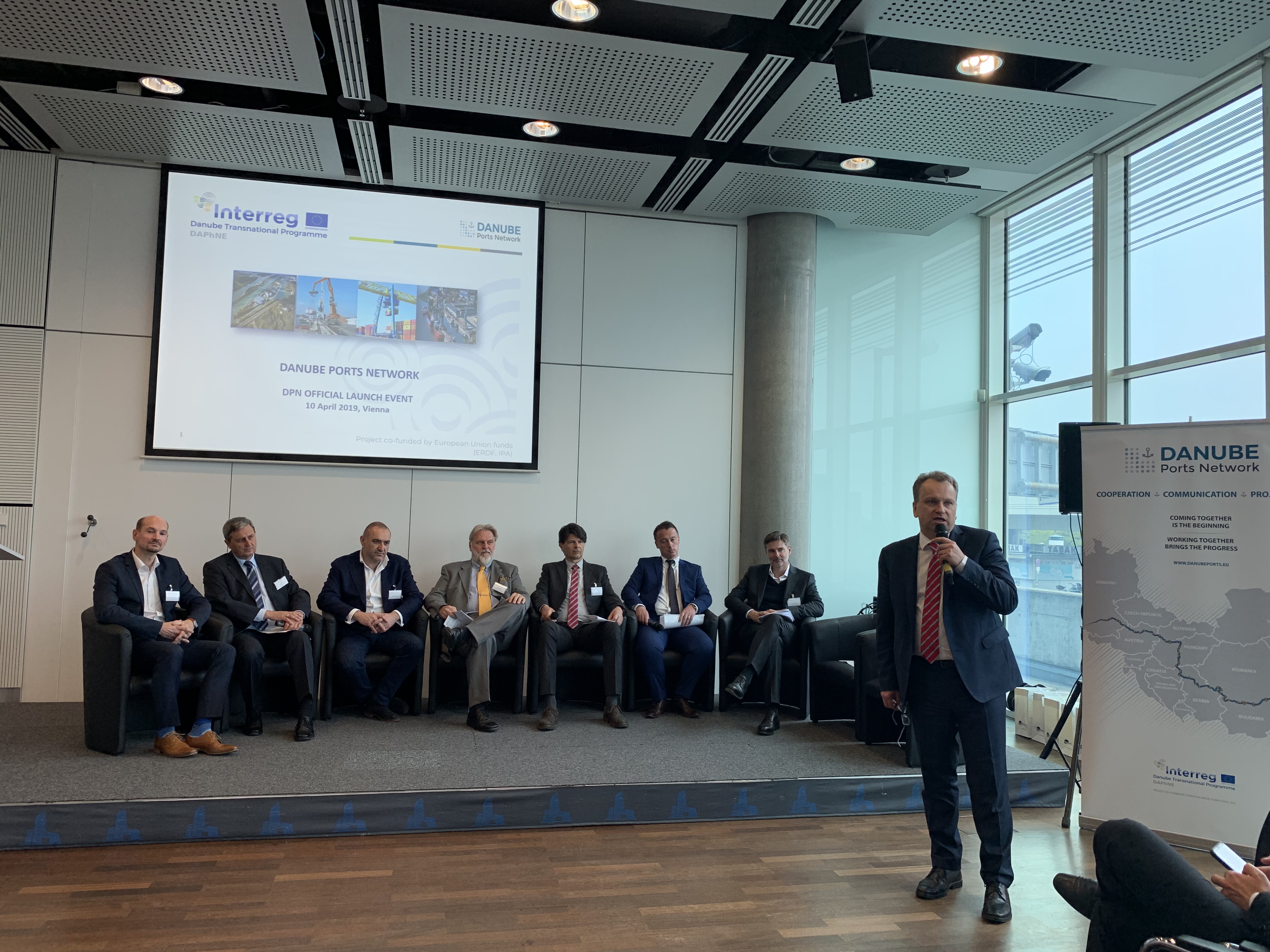 For more information on the structure of the event and the specific topics discussed, please consult the agenda and relevnt presentations, as follows :
Welcome and introductory remarks by Mr. Manfred Seitz, General Secretary Pro Danube International (PDI)
Overview strategic direction & key initiatives of the DPN
Keynote speech by Mr. Turi Fiorito, Director European Federation of Inland Ports (EFIP)
Details
27-28 September 2018, Constanta, Romania
Organisers: Aspen Institute Romania and Constanta City Hall
Unlocking Constanta's full potential: Investing in infrastructure and logistics. Due to its geographical location, the Port of Constanta can become a Gateway into the EU for goods originating in Asia and the Middle East, with the destination of Central and Eastern Europe. In addition to reducing the distance of shipping routes by approximately 2,400 nautical miles (Port of Shipment – Constanta instead of Shipping Port – Northwest Europe), the distance travelled by road transport will be diminished as Romania is closer to the countries in Central and Eastern Europe with about 650 kilometres. In order to achieve this objective, the Port of Constanta should ensure rapid transit of goods to the EU market (including Romania) as well as "Near-Shoring" processing capabilities.Date: September 28, 2018

Further details: http://aspeninstitute.ro/event/constanta-danube-black-sea-gateway/